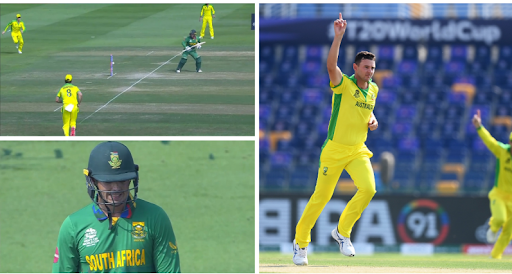 Quinton De Kock's dismissal left fans disappointed.
Quinton De Kock's dismissal left fans disappointed.
October 26, 2021  Authorbjbajian
As South Africa battled against Australia in their tournament opener, fans were disappointed by Quinton de Kock's expulsion.

In their T20 World Cup Super 12 match against Australia in Abu Dhabi on Saturday, South Africa got off to the worst possible start. South Africa was down to 23 for three in the fifth over when Glenn Maxwell and Josh Hazlewood struck early. Temba Bavuma was scrubbed by Maxwell, while Rassie van der Dussen was sent away by Hazlewood. The removal of their first batter, Quinton de Kock, drew the most attention from fans, with some calling it the "strangest dismissal of the tournament."

De Kock attempted to play the ball to fine-leg, but the stroke was missed, as the ball bounced off his body and landed on the stumps. For the South African opening, that was a really difficult expulsion.

The left-hander was unfortunate to be dismissed by Australia's Josh Hazlewood. To paddle the ball to the fine leg zone, De Kock moved across his stumps. De Kock was initially aiming for a run when the ball lobbed in the air off his glove and then rebounded right towards the stumps, knocking down the bails; de Kock was stunned and then upset when the ball hit the sticks.

Thereafter, the camera shifted to AB de Villiers and his family. While the former Proteas captain remained silent and kept his hand on his mouth, his kid was clearly distraught by de Kock's dismissal: he clenched his teeth before laying his head down in anguish.

Earlier, Temba Bavuma, South Africa's skipper, got his team off to a great start with two boundaries off Mitchell Starc's opening over. However, soon after, Aaron Finch injected spin, and Glenn Maxwell made an immediate effect, eliminating the Proteas skipper.

South Africa was reduced to 16/2 as Josh Hazlewood took a wicket, dismissing the in-form Rassie van der Dussen before Quinton de Kock followed suit.

South Africa captain, Temba Bavuma said that they feel very positive about their team. They have a good side and are very confident to achieve in the tournament. He added that their preparations have been good, and they have played a lot together. They're coming off with a lot of momentum, and they're not scared about being tagged as favorites, but they have to live up to their potential. They believe in their team, and they'll do their best.